Design

Choose from two gorgeous color combinations and bring a touch of luxury to your everyday with our The Silvie Scrunchies in 100% silk or a fine linen and viscose blend. Everything you need to make the Zero Waste hairbands can be found in your DIY kit. You can sew them either with a simple hand sewing technique, or with a sewing machine. Both are explained in the video tutorial by our designer Juliana.
Content (for 2 hair bands)

high-quality outer fabric (silk or linen-viscose blend) in the right amount
sustainable recycled sewing thread in two colors
elastic band
a sewing needle
pins
a safety pin
two golden JULIANA MARTEJEVS logo plates
detailed video tutorial (German with English subtitles)
Additionally needed
one pair of scissors
a pen or chalk
a ruler or tape measure
Video tutorial

You can find the video tutorial for the hairbands here.
Material

100% silk | 55% linen with 45% viscose
Questions?

Check out our FAQs or write to us directly! We have the highest standards for our products. So if something does not meet your expectations, please contact us and we will solve the issue together.
#JULIANAMARTEJEVSonME

We love your custom JULIANA MARTEJEVS outfits and your creative combinations of your favorite pieces as much as seeing you in the fun process of making your JULIANA MARTEJEVS DIY pieces. For a chance to be featured on our Instagram channel or here, use the hashtag #JULIANAMARTEJEVSonME and tag @julianamartejevs_official on your photo.
Here you can view the full photo gallery with your best #JULIANAMARTEJEVSonME looks.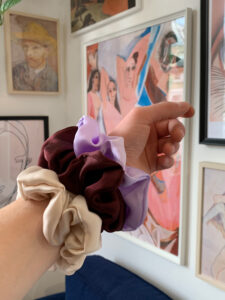 Outdoor: Photographer: Inken Weber | Model: Gianna Sammartano | Make-up artist: Melina Sprick