Design
Modern asymmetry meets classic long sleeve top: our The Liza Top is the DIY piece for every occasion, becausethanks to the generous color selection, it leaves no style wishes unfulfilled. You'll find everything you need to sew this jersey top in the sewing kit.
Content
GOTS certified organic cotton jersey
the paper sewing pattern
color matching recycled quality sewing thread
one jersey sewing machine needle (deselectable)
cotton ribbon to hang the top on a hanger
the JULIANA MARTEJEVS fabric label
a gold JULIANA MARTEJEVS logo plaque
Written, illustrated instructions
detailed video tutorial (German with English subtitles)
Additionally needed
access to a sewing machine
two scissors (for paper and fabric)
a hand sewing needle
pins
Material
Midnight Black, Cloudy Grey & Rose Wood : GOTS certified organic cotton made of 97% cotton, 3% elastane
Recycled Cloudy Grey: Recycled rib knit, OEKO Tex 100 certified: 47% Cotton, 26% Recycled Polyester, 23% Recycled Cotton, 4% Elastane
Size chart
You can sew the top in sizes XS, S, M, L, XL, XXL or XXL. Which one you sew, you decide when you cut the sewing pattern.
Find the perfect size for you simply by using our size chart. Measure your chest, waist and hip circumference. Check the chart to see which size most closely matches your own measurements. For the DIY Kit The Vicy Top pay special attention to the bust and waist size. But since the top is elastic, you don't have to worry if you deviate a little here and there.
| | | | | | | | |
| --- | --- | --- | --- | --- | --- | --- | --- |
| Dimensions in cm | XS | S | M | L | XL | XXL | XXXL |
| Bust | 82 | 86 | 90 | 96 | 102 | 108 | 116 |
| Waist | 62 | 66 | 70 | 76 | 82 | 88 | 96 |
| Hip | 90 | 94 | 98 | 104 | 110 | 116 | 122 |
Video tutorial
You can find the video instructions for the pattern here. If you've never sewn before, watch our sewing machine basics video tutorial first. There you will learn about the components of a sewing machine and how to sew your first seam.
Questions?
Then check out our FAQs or write to us directly! We have the highest standards for our products. So if something does not meet your expectations, please contact us and we will solve the issue together.
#JULIANAMARTEJEVSonME
We love your custom JULIANA MARTEJEVS DIY outfits and your creative combinations of your favorite pieces as much as watching you go through the fun process of making your JULIANA MARTEJEVS DIY pieces. For a chance to be featured on our Instagram channel or here, use the hashtag #JULIANAMARTEJEVSonME and tag @julianamartejevs_official on your photo.
Here you can view the full photo gallery with your best #JULIANAMARTEJEVSonME looks.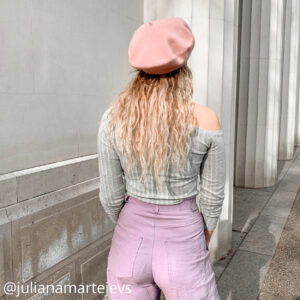 Outdoor in the city: Photographer: Jana Merz | Model: Theresa Meschede | Make-up artist: Eleonore Ising
Outdoor in the green: Photographer: Inken Weber | Model: Gianna Sammartano | Make-up artist: Melina Sprick