In this article you will learn everything about smocking clothes. We'll give you an overview of where this creative handmade style came from, what smocking techniques are available, and how to use them to smock your own clothes, just like the ones you'll find on the runway today.
Content
1. What is smocking?
2. Origin of smocking techniques
3. Smocking stitches
4. How to smock
5. Fabric for smocking
6. Smocking on the runway

What is smocking?
Smocking is a decorative sewing and embroidery technique in which fabric is gathered in a specific pattern to create a structured and elastic effect. This technique is commonly used in garments such as dresses, blouses, and children's clothing. It not only adds visual interest but also allows the fabric to stretch and move with the wearer, providing both style and comfort.
When smocking, a grid pattern is drawn on the fabric. The fabric is then gathered and sewn together using a series of small, regular stitches. The gathered stitches create small pleats or gathers in the fabric, giving the smocked area its characteristic appearance.
Traditionally, smocking was done by hand, with each stitch carefully placed and tightly pulled to achieve the desired effect. Nowadays, smocking can also be done using sewing machines with smocking functions or specialized smocking machines.
---
Origin of smocking techniques
The origins of the smocking technique are not precisely known as it developed across different cultures and time periods. It is believed that smocking existed as early as ancient times, with various forms of fabric gathering and manipulation practiced in different parts of the world.
However, the modern form of smocking, as we know it today, has strong historical connections to European clothing traditions during the Middle Ages and the Renaissance, particularly in England and France. In these cultures, smocking was widely used as a decorative and functional technique in garments such as shirts, chemises, and later, children's clothing.
Smocking was also prevalent in other parts of the world. Different forms of fabric manipulation and gathering techniques, similar to smocking, can be found in the traditional clothing of regions like Africa, Asia, and the Americas. These techniques have their own unique cultural significances and are often integrated into traditional attire.
---
Smocking techniques
There are different variations and styles of smocking clothes that can be applied in various ways. Here are some common smocking types:
Basic Smocking: Characterized by evenly spaced parallel pleats secured with zigzag stitches on the back of the fabric. Those gathered areas are elastic.
Cable Smocking: Diagonal pleats are created in a crisscross pattern, resulting in a textured cable design. That produces a three-dimensional effect.
Picture Smocking: Patterns and images are created using smocking pleats. It requires more precision and experience as specific pleats need to be placed in certain positions to achieve the desired image.
Counterchange Smocking: Changing the color of stitches is crucial in creating a contrasting pattern. Different designs such as crosses, dots, or other geometric shapes can be formed.
English Smocking: This technique differs from others with small, even pleats held together with stitches at regular intervals. It creates a structured grid pattern that is often embellished with beads, embroidery, or other decorations.
North American Smocking / Canadian Smocking: Pleats are sewn in a diagonal or diamond arrangement. The pleats are secured with stitches on the back of the fabric, creating a structured pattern.
Honeycomb Smocking: This technique creates a hexagonal grid pattern resembling the cells of a beehive. Pleats are placed at regular intervals and secured with stitches.
Italian Smocking: It is highlighted by large, loose pleats arranged in specific patterns. This results in a textured effect reminiscent of seashells or fish scales.
---
How to smock clothes
1. Step
Over the entire rectangle for the smocked top, first draw a grid with 2x2cm (13/16 x 13/16in) intervals using a chalk pencil. Then draw a V over every two squares, i.e. diagonal lines within a square. Next to and above two squares, two squares each remain empty. The Vs are staggered over the entire fabric.
2. Step
Pierce the tip of the right leg of the inverted V and pull the needle only through 1mm (1/16in) from the fabric. Let the end of the thread hang about 7cm (2 3/4in) without knotting.
3. Step
Pierce the tip of the inverted V and also sew only through a small piece of fabric. Leave the thread from the last puncture still loose and do not pull the fabric together.
4. Step
Pierce the left end of the leg of the inverted V and also sew only through a small piece of fabric. Leave the thread from the last puncture still loose and do not pull the fabric together. Cut the thread after another 7cm (2 3/4in).
5. Step
Take the ends of the thread in one hand each and knot them. Knot three times so that it holds particularly well and pull the fabric together completely. The three stitching points now about each other exactly.
Wrong side
On the wrong side of the fabric visible are a lot of triangles. Sew as evenly as possible and avoid making mistakes.
Right side
: On the right side of the fabric slightly curved triangles are created. The tip of the triangles points downwards during cutting.
Smocking Clothes Tutorial
You can also find the smocking sewing instructions in this video. From minute 1:40 we explain very simply step by step how the smocking technique works.
Smocking top
The smocking technique is great for tops, blouses or dresses.
A great smocking pattern for spring and summer you can find in our online shop:
---
Fabric for smocking
When smocking clothes, different fabrics can be used depending on the effect and texture you want to achieve. Here are some fabrics that are commonly used for smocking clothes:
Cotton: Cotton fabrics are popular for smocking as they are easy to gather and provide good structure. Woven cotton fabrics such as batiste, voile, or poplin work well for smocking projects.
Silk: Silk fabrics add a luxurious and elegant look to smocking. Silk has a beautiful drape and can be used for both delicate, intricate smocking work and larger smocking designs.
Linen: Linen fabrics give smocking a rustic and natural charm. They are durable and have a coarse texture that can add an interesting look to smocking.
Viscose: Viscose fabrics are soft, lightweight, and have a nice drape. They work well for smocking designs that require a flowing and feminine look.
Jersey: Jersey fabrics are stretchy and soft, making them ideal for smocking creations that prioritize comfort and freedom of movement. They are suitable for smocking on children's clothing or comfortable casual garments.
It is important to choose a fabric that is easy to gather and not too thick or stiff to create the pleats properly. The choice of fabric also depends on the type of smocking project, desired style, and wearer's comfort. It is advisable to make a fabric sample before starting a smocking project to test how the fabric responds to the pleats and achieve the desired effect.
If you want to be on the safe side with the materials and get everything you need for smocking in one box, be sure to check out our sewing kit:
---
Smocking on the runway
Also, on the runway, you can often see the smocking technique being showcased. These are just a few examples of designers who have used smocking on the runway:
Christian Dior: The renowned fashion house has featured smocking in various collections. Dior has incorporated smock details on blouses, dresses, and skirts to create intricate patterns and add a feminine touch to their designs.
Image source: https://www.dior.com/en_us/fashion/womens-fashion/haute-couture-shows/autumn-winter-2022-2023-haute-couture-show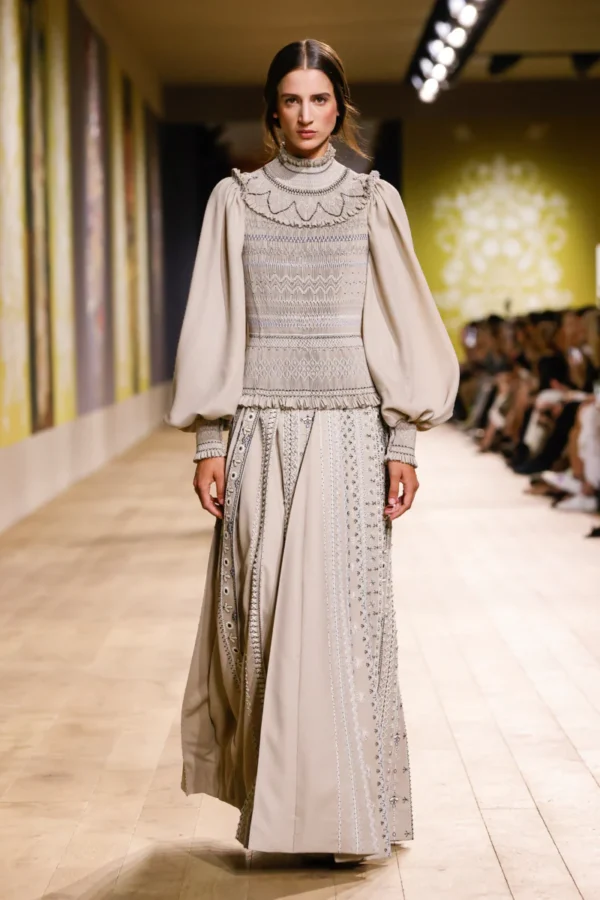 Valentino: Valentino has featured smocking clothes in its runway collections, using the technique to create ruffled and gathered effects on sleeves, tops and hems of dresses and blouses. Smocking has been employed to bring volume and texture to their romantic and dreamy designs.
Image source: https://www.vogue.com/fashion-shows/spring-2012-couture/valentino#details
Dolce & Gabbana: The Italian luxury brand Dolce & Gabbana has incorporated smocking in their runway presentations. They have used the technique on various garments to create complex patterns and ornate details.
Image source: https://weselectdresses.com/product/dolce-gabbana-floral-smocked-midi-dress/
Erdem: London-based designer Erdem Moralioglu has showcased smocking in his collections, often combining it with delicate floral patterns. Smocking has been used to introduce structure and visual interest into his feminine and romantic designs.
Image source: https://modesens.com/product/erdem-georgiana-tie-detailed-printed-cotton-and-silk-blend-voile-midi-dress-wild-palm-blue-63885857/
Isabel Marant: French fashion designer Isabel Marant has also integrated smocking into her runway shows. Smock details have been used to create a bohemian and relaxed look.
Image source: https://www.isabelmarant.com/us/isabel-marant-etoile/short-skirt_cod13813142id.html